A retaining wall is, in most basic terms, a barrier that holds back soil from sliding down a slope or hill. In practice, retaining walls provide a lot of benefits to the landscape, from erosion control and improved drainage to transforming otherwise unusable space into functional and attractive features.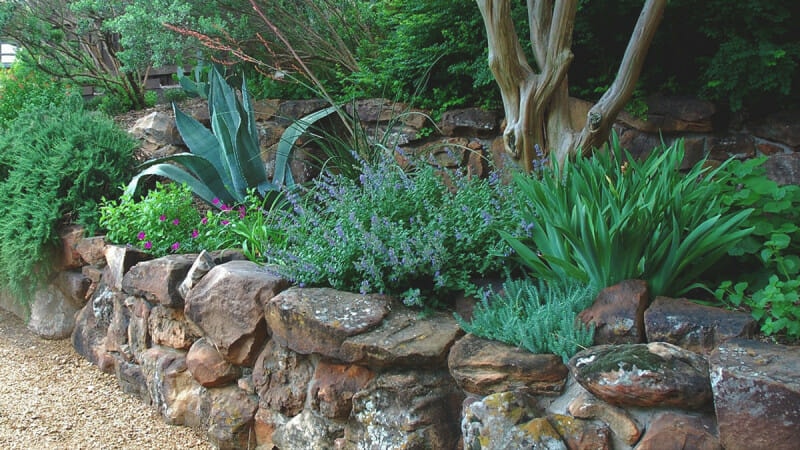 A well-designed retaining wall will not only improve the flow of water but can turn a trouble-spot hill or sloped yard into a new planting area, a patio, or a walkway. Here are some ways a retaining wall can help solve problems in your landscape.
Drainage and Water Retention
Homes built on our Texas clay have heavily damaged soils that are compacted from construction and foot traffic. Most plants will not grow well in compacted soil.
When we install a retaining wall, we fill it with a mix of our native clay soil and compost. On compacted land, water runs off slopes quickly and does not have time to seep into the soil. The new soil mixture helps hold rainwater by allowing it to infiltrate rather than run off. Additionally, the amended clay is ideally suited for growing Texas native plants.
Steep and Shady Landscapes
Hilly or sloped terrain benefits most from retaining walls. These landscapes may be too steep to mow safely. Sometimes they may also be too shady for growing grass. Exposed soil with no plant roots to hold it in place can lead to erosion as soil washes away with every rain. Additionally, water runs off the slope too fast to infiltrate the soil. This results in conditions too dry to sustain plant growth.
Retaining walls solve these problems by creating level spaces that will better hold water and keep the soil in place. Plus, no mowing is necessary when installed with shade-tolerant native and well-adapted plants. Plantings in turn offer a number of other benefits such as providing a habitat for wildlife.
Retaining Walls for a Sloped Front Yard
This front landscape is a perfect example of how retaining walls can transform a difficult space.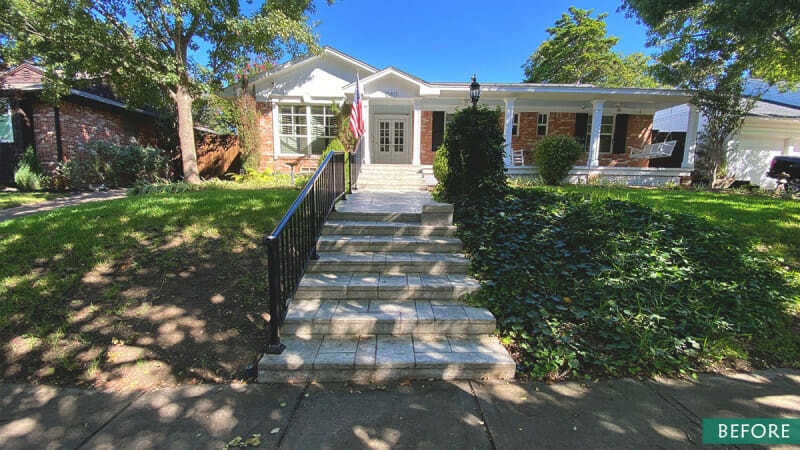 The home is on the high end of a hill with a steep slope to the front walkway. The 45-degree slope made mowing not only difficult but also dangerous.
Plus the shade from the large trees stunted grass growth, resulting in more weeds than sod. Mowing every week from April to December was too much work, especially when the result was a weak, weedy sod. This situation is common in older neighborhoods with mature trees.
With a lot of water coming off the roof and flowing directly to the street, erosion was also something that needed correcting. 
Linear Terraced Retaining Walls
To address these issues, we terraced the front yard with a two-level retaining wall made of high-quality wall blocks filled with a soil and compost mix to further improve the drainage. This created fertile planting beds for mostly Texas native plants. 
Now that the landscape is level, water can infiltrate into the soil rather than running off the property. This will help ensure that the plants can thrive in their new home.
The new retaining walls also created more space for a patio with a fire pit and garden. Plus, it is more comfortable to walk on than the 45-degree angled hill! The homeowners are getting a lot more enjoyment out of the yard with the flowers, pathways, and outdoor living space.
Retaining Wall Materials
Wall blocks are one of several options for building retaining walls. Choose a material to coordinate with your house and for the style you'd like for your landscape. You can opt for natural or man-made materials and designs that range from rustic and naturalistic to something more modern with clean lines.
Natural Stone Retaining Wall
In this landscape, large moss boulders replaced rotting railroad ties on a very steep backyard slope. The boulders were mortared in place, creating a permanent retaining wall solution with a naturalistic aesthetic. This natural style is further enhanced with beautiful native and well-adapted plantings that need little attention. 
Brick Veneer Retaining Wall
Here's an example of a retaining wall enhancing a home's curb appeal. Built with brick to coordinate with the house, the effect is a cohesive flow between house and landscape. The wall created new level beds on a gently sloping plot. This expanded the planting area for native plants which provide seasonal color and interest throughout the year. As a bonus, it also reduced the mowing area!
For more retaining wall examples, check out our new Hardscape gallery.
Ready to transform your landscape?
If you have a challenging hilly or sloped landscape, a retaining wall may be just what you need to revamp your space, improve water and soil conditions, and capture more real estate.
Contact us to get started. With fall right around the corner, now is the perfect time to begin your new landscape design project.