Stone and rock, like native plants, have been a part of my landscape designs from the beginning. There's nothing like the naturalistic beauty that some mossy boulders or large slabs of flagstone add to an outdoor space. I especially love dry stream beds which function in many ways like a rain garden.
In the last few years, stonework as part of landscape design (also known as hardscaping) has been growing in popularity. This is a trend I can wholeheartedly get behind!
What's New
Dubberley Landscape is happy to officially include Stonework as one of our specialties (along with Native Landscapes and Rain Gardens). It now has its own page! Here is our new Stonework page devoted specifically to ways stone can work in your landscape.
We've also expanded our Stonework gallery with many more photos. There is a handy new filter so you can view the gallery by the kind of stonework you are most interested in (paths, dry stream bed, retaining walls, patios, and more). You'll see how some well-placed stone and rock in a landscape design can be both beautiful and super functional, too!
A Good Time for Stonework Installation
With weather mostly just hot and dry for the foreseeable future, stonework is one of the best projects for revitalizing your landscape this time of year. We don't recommend planting in drought conditions and our summer heat, but once cooler temperatures arrives, we quickly book up as people are ready to revamp their summer-weary landscapes. Now, before the autumn rush, is a great time to start a hardscape project (and get your fall planting design started).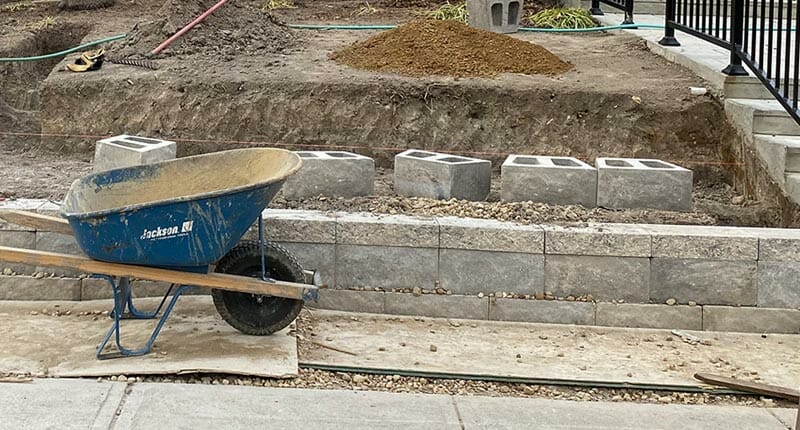 Whether you want to create new planting areas or just make more livable space outside for hanging out, laying your stones now will mean you are ready to enjoy your landscape when the season changes!
Contact me if you have any questions or are ready to schedule a consultation.
Want more inspiration?
Subscribe to the blog below to be notified of upcoming blog posts in our new Stonework series. The first post will be about retaining walls and feature a couple of impressive landscape transformations!