National Pollinator Week (June 19-25) is a time to celebrate pollinators and learn about how we can protect them. As a big proponent of gardening for wildlife, I've compiled some resources for supporting birds, bees, bats, butterflies, moths, beetles, and other pollinating animals in our landscapes. 
Pollinator Week was started by Pollinator Partnership, a non-profit working "to promote the health of pollinators, critical to food and ecosystems, through conservation, education, and research." This is important work, especially at a time of declining pollinator populations. Check out their site for all sorts of information, but this overview is a good place to start. The U.S. Fish & Wildlife Services website also offers information on how to help pollinators.
Designing a Native Pollinator Garden
The essentials of pollinator-friendly landscapes include food, water, shelter, and a place to raise young. Choose a variety of native plants to provide nectar or larval food throughout the seasons, as well as nesting sites. Cluster plantings to create an easy to find target for pollinators but also for shelter and cover from predators. For more details on the process and considerations of designing your space, however big or small, see Pollinator Gardens: 8 Easy Steps to Design a Landscape with Native Plants.
To help choose native plants, I always turn to the Ladybird Johnson Wildflower Center plant database. Browse plants lists to find pollinator-friendly plants suited to your location.
Expert Advice
For a holistic view on cultivating a pollinator habitat to support bees, butterflies, and birds all year long, I highly recommend watching this interview on PBS's Central Texas Gardener show. Eva recognizes that everything is connected, and her approach to gardening for pollinators is both smart and sustainable.
To learn a bit about bees, native plants and wildscaping for pollinators, check out this Texas Parks & Wildlife podcast.
Pollinator Spotlight
On the topic of bees, here's a lot more about Texas native bees from the Native Plant Society of Texas. For solitary bees, you can create a DIY bee condo. Buy local honey to support your local beekeeper.
The Texas Butterfly Ranch covers all the bases on how to plan a successful butterfly and pollinator garden, plus all sorts of other butterfly related topics, including the question of tropical milkweed. The Wildflower Center also writes about the making of butterfly gardens.
For more on the problem with milkweeds and how you can help, start with the Project Milkweed resources.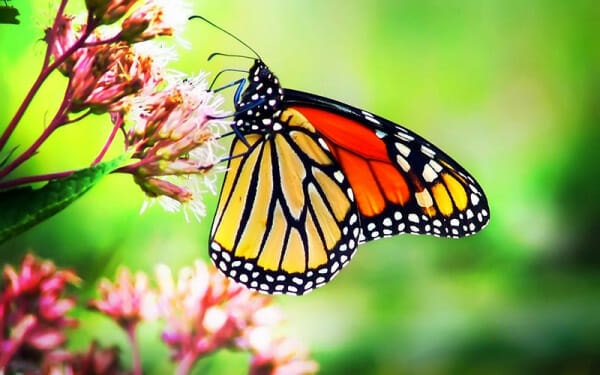 Let's not forget the often overlooked pollinator: bats! If you'd like to attract these, you'll want to read up on bat houses.
Avoid Pesticides
A common thread you'll find in a lot of resources about pollinators is the use of pesticides. In short, don't use them! Be mindful of our precious pollinators when tackling pests; instead of indiscriminate chemicals, cultivate biodiversity and carefully and properly use natural pest controls where appropriate.
Join the Pollinator Movement
Our care for pollinators should extend beyond just one week a year. Each of us can commit to helping pollinators year-round by joining the Million Pollinator Garden Challenge, a "call to action to preserve and create gardens and landscapes that help revive the health of bees, butterflies, birds, bats and other pollinators across America."
Visit the site to learn more and register your garden. If you're just getting started, there's no better time than today to learn what you need to know and make your pollinator habitat plan for the next planting season!
Take your commitment one step further and get involved with Pollinator Partnership.
How are you supporting pollinators? What changes would you like to make in your garden to cultivate a pollinator habitat?
Editor's Note: This post was originally published in 2019.