As part of our series of posts highlighting our love for stonework in our North Texas landscape designs, we previously featured retaining walls. The naturalistic design of dry stream beds (also known as dry creek beds) is another popular stonework feature. Dry stream beds are unique and beautiful additions to a landscape but also have a number of practical benefits.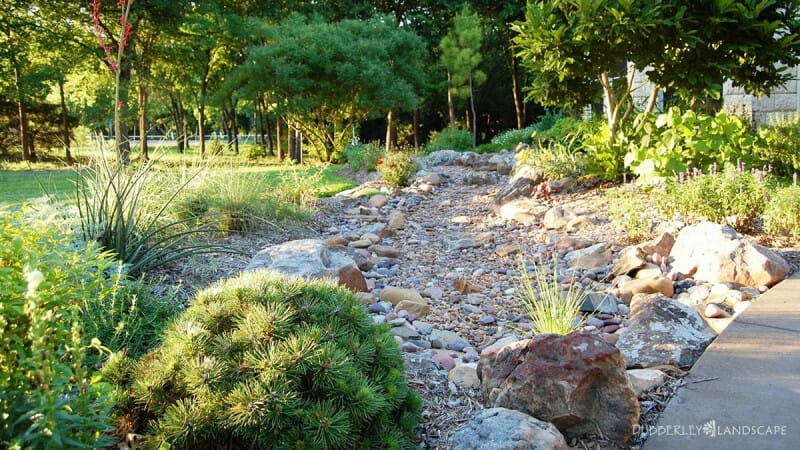 Form and Function
By taking cues from nature and working with the flow of water, a well-designed dry stream bed creates a natural-looking waterway. This creates visual interest in any outdoor space but with several benefits below the surface.
As you can see in the stonework gallery, a dry stream bed can be incorporated into many styles of gardens for an attractive focal point.
Structurally, dry stream beds use a variety of stones, from boulders to gravel. We'll talk more later about the flow of water, but a stream bed with well-placed rocks can also improve the flow of space; they can be designed to function as walkways throughout a garden.
A dry stream bed creates wonderful opportunities for planting. Strategically planting around the stone with native and well-adapted plants adds beautiful touches of color and texture.
Beyond the aesthetic, it also simulates natural habitats for wildlife not commonly found in our suburban and urban neighborhoods. Every landscape can benefit from a healthy variety of plants and wildlife.
Benefits for Water and Soil
A properly constructed dry stream bed can control and direct the flow of water through a landscape. It retains water on the property, slowing the flow to allow more time for water (whether from rain or sprinklers) to infiltrate into the soil. As a result, this reduces runoff, which provides a number of benefits for both the landscape and the greater environment.
Less runoff means less soil erosion. Dry stream beds help control erosion on sloped areas of a property. They do this by slowing down the flow of runoff water which would otherwise carry away soil.
And this also means less runoff into storm drains. Spreading urbanization has resulted in an increase in impervious surfaces (concrete, asphalt, patios, compacted lawns, etc), thus more stormwater runoff.
In natural environments, when it rains, water can infiltrate into the soil. In many constructed spaces, however, water runs off and directly enters streams and lakes, contaminating them with pollutants. This hinders the recharge of groundwater and results in the loss of water for landscape irrigation. In lieu of naturally watered gardens, we have to use chemically treated municipal water, an unnecessary burden, especially during times of drought and water restrictions
Dry stream beds, rain gardens, and sustainable landscapes help effectively counteract this issue. These features facilitate the retention of water in a landscape, allowing time for it to absorb into the soil. This supplies the water needs of surrounding plants and contributes to the natural filtration process, with help from the plant roots, to recharge groundwater systems. So, by slowing down the flow of water, you can conserve water, cut down on pollutants, and cultivate a beautiful, flourishing garden!
Rain Gardens vs Dry Stream Beds
Rain gardens and dry stream beds provide much of the same function of capturing rain in your landscape. The main difference is in the materials and focal point. A dry stream bed is typically built using stone material, with plantings mostly along the sides. A rain garden does not necessarily include rocks and has plantings within the catch basin or swale.
In practice, the difference isn't always so clear cut. We sometimes install hybrid features, basically a dry steam bed made with rock but with plants growing within the basin.
In addition to ecosystem concerns, a dry stream bed can also direct water away from your home and into the garden. This reduces the risk of flooding and foundation damage while keeping your plants watered.
Elements of a Dry Stream Bed
Dry stream beds are a great way to introduce more natural elements and character to a landscape. They create a sense of texture, depth, and movement and can be designed in different shapes and sizes, depending on the property and available water catchment.
Source and Location
Though a dry stream bed is dry for much of the time, placed appropriately, it can come alive when it rains. A well-designed plan will take into account how water can be efficiently directed into the stream bed.
Rainwater that falls on roofs and other impermeable surfaces can be directed through downspouts and drains to a dry stream bed. The water can then infiltrate though layers of gravel and soil as it is channeled to lower areas that can handle the volume.
French Drains
A French drain is an underground drainage system. These can be very costly and require maintenance to keep clear and functioning. Dry stream beds are easier to install and maintain, plus they are attractive. So, on most properties, I prefer a dry stream bed to a French drain.
To catch the most runoff during a rain, a dry stream bed would ideally start under a downspout or valley of a roof without a gutter. To maximize rainwater collection, situate a rain barrel beneath your downspouts, and direct overflow from the barrel into a connecting stream bed.
A functional dry stream bed will only work to direct water on sloped land. For drainage issues on a completely flat property, French drain systems may be a better solution.
Placed away from the house and downspouts or on a flat area, a dry stream bed can still serve as a decorative feature.
Design Inspired by Water
Undulating and meandering channels in a dry stream bed design mimic the natural flow of water. The gentle curves slow down water flow, promoting better infiltration. This design element also serves to guide the eye through the space and drawing attention to the surrounding landscape.
Deeper basins situated strategically provide greater holding capacity to capture more water as it naturally slows while flowing around curves. These ethereal pools of water are captivating during a rain event. I try to go outside after every rain I can to appreciate their shimmering beauty.
Soil Type and Materials
When it comes to building a dry stream bed, the materials are just as important as the design.
Soil types influence how fast water will infiltrate. Clay soil, as found in parts of North Texas, has the slowest infiltration, and gravel and sand the fastest.
We often dig out some of the native soil and place this on the low end of the slope to create berms. These ridges and rises create visual interest, diverse planting areas, and acts as a dam to help keep soil and water on the property. To that we add gravel, to increase infiltration.
When designing dry stream beds, we take inspiration from nature and adapt for our confined landscapes. Natural stream beds erode over time, but this is something we strive to prevent in our landscapes. Constructing imitation streams with stone helps retain the soil. A gravel layer along with river rock and thoughtfully positioned boulders not only enhances aesthetic appeal but also serve a functional purpose by reducing erosion and preserving the integrity of the dry stream bed.
Plants
As with any other smart North Texas landscape, we plant native and well-adapted plants along the sides and sometimes within the basins of our dry stream beds.
One feature found in a lot of native Texas plants adapted to dry conditions is an expansive, deep root system. These plants will benefit greatly from the captured water in a dry stream bed. Their roots are drawn to these deep reservoirs of water, creating a hardy root system and more resilient plants.
Additionally, native planting along the stream bed promotes biodiversity and a balanced ecosystem. Attracting native wildlife means more pollinators and natural pest control.
Maintenance
A well-designed and installed dry stream bed will remain relatively maintenance-free. Care includes periodic cleaning of debris such as leaves and other organic matter to ensure water can continue to flow freely. Trim and maintain surrounding plants as needed to minimize decaying plant material littering the stream bed. And as with any weeding, prompt removal is always best.
Additionally, inspect gutters and downspouts seasonally to ensure they remain unclogged and are in good working condition.
Hiring a Professional
Whether you are embarking on a full scale landscape renovation or needing to correct water runoff issues in an established space, a dry stream bed can bring a wide range of benefits. With the right design and plant selections, a dry stream bed can serve as an attractive solution for managing water runoff, reducing water usage, preventing erosion, and creating habitat for native wildlife.
But an improperly designed or installed stream bed can compound the problems you are trying to address instead of solving them.
A landscape professional with experience in sustainable, ecological design can better create a final product that is not only beautiful but also functionally sound, from determining the proper slope and placement to selecting suitable materials. They will have the tools and the knowledge to ensure a successful outcome.
With our love of stone and native plants and wildlife, at Dubberley Landscape, we've designed and installed countless dry stream beds and even more native landscapes.
As we experience more droughts and floods, we need to collectively get serious about alternatives to highly maintained landscapes that can't weather these conditions. I'm happy that more and more people are reaching out to me to work with nature instead of against it, requesting native plants and ways to conserve water.
If you're ready to transform your space, there's no time like the present to start planning. Contact me to get on my waitlist. We install stonework projects year-round, and we've had a busy summer. Fall is always an especially busy season for us as it is the perfect time to plant in North Texas.
Subscribe to the blog below to be notified of upcoming posts. We have some featured landscape transformations we are excited to share with you!