At Dubberley Landscape, we love natural stone so much that almost all of our designs incorporate some type of stone. Stonework using boulders, river rock, gravel, and flagstone creates a blend of naturalistic beauty and function for walkways, walls, borders, dry stream beds, and more.

Retaining Walls
A retaining wall is a great way to turn a difficult-to-maintain hill into an aesthetically pleasing and functional landscape feature. Choose from a number of different materials, from boulders and choprock for a more natural effect to concrete wall blocks or bricks to match your home.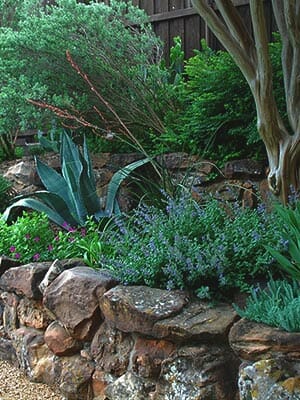 Protect Soil
Erosion control on hilly, sloped surfaces from rain and irrigation runoff
Reduces foundation damage from soil washing away
Keeps essential topsoil in place
Water Management
Improves drainage and allows rainwater to infiltrate the soil
Reduces need for irrigation
Protects ecosystem and drinking water from pollution runoff
Reclaim Space
Creates usable planting beds where otherwise nothing will grow
Makes difficult terrains accessible
More outdoor living space for patios, walkways, and entertaining
Dry Stream Beds
Dry stream beds function as a means of getting water from point A to B, but more importantly they can be a beautiful, naturalistic way to capture and divert rainwater from the roof to where you need it – on your property and in the soil, not the sewer drain down the street.
Dry stream beds provide many of the same benefits listed above, such as erosion control and water management. For more details, read the dry stream bed blog post.
Outdoor Living
Stonework in the landscape creates usable outdoor spaces to increase your living areas and make your garden more accessible. Add or expand existing patios, create flagstone pathways, strategically place stone seating, fountains and other functional and decorative elements to make the most of outdoor living.
Ready to plan your landscape?
Dubberley Landscape specializes in designing and building sustainable landscapes featuring stonework, native plants, and rain gardens. Contact Carrie Dubberley to get started with your project.