The Dallas Water-Wise Landscape Tour is coming up on Saturday, October 14 from 9 am to 1 pm. This free, self-guided tour features water-conserving, drought tolerant residential and community landscapes.
Start at the tour headquarters in the morning for short presentations on water-wise gardening. Details and topics are available on the site. Dallas County Master Gardeners will be on hand at each stop to discuss water-efficient landscaping, drought tolerant plants, and water conservation practices.
Two Special Stops on the Dallas Water-Wise Tour
I'm excited this year that two of the eleven stops (#9 and 10) on the Dallas Water-Wise Landscape Tour are client properties! These are landscapes that I've had the pleasure of seeing through design/installation and maintenance and watched grow into their beauty over the years.
#9. 9648 Robin Meadow Drive – Dallas, TX 75243
This water-wise landscape began its life in 2012 with a backyard redesign. We replaced an old railroad tie retaining wall with a two-tier moss boulder wall. You can find more pictures of the transformation on the Before & After gallery.
Over the next few years, we redesigned the front and side yards. We managed to keep the water needs very low by choosing tough native and well-adapted plants. Drip irrigation runs on a timer to get new plantings established and in a few select beds. Otherwise, the landscape thrives with very little supplemental water.
What I love most about this landscape are the colors and textures from the flowers and foliage. And besides being a low maintenance kind of landscape, all the beautiful native plants create a habitat for pollinators. Bees are drawn to the asters, butterflies flock to the Gregg's Mistflower, and hummingbirds frequent the Turk's cap just outside the homeowner's office window!
For a more in-depth tour of this landscape, watch my interview with meteorologist, Dan Brounoff. Part 2 is here.
We walk around the front of the property and discuss plants, pollinators, and water conservation.
#10. 7606 Burns Run – Dallas, TX 75248
This is another landscape that has come together over several stages and years. We started in 2012 with the side yard and courtyard. This year, we finished the front, so the plantings here are still getting established.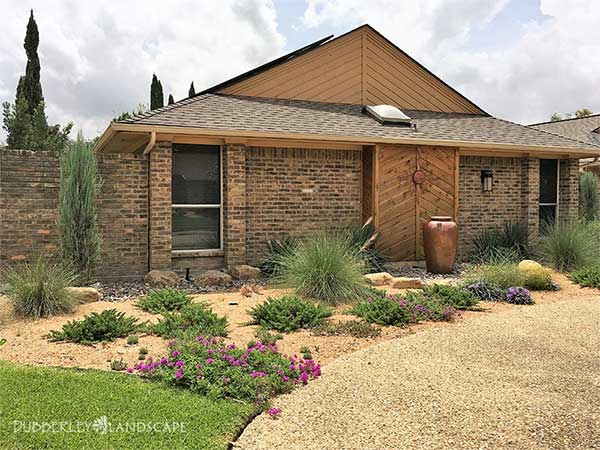 The variety of native plants in this landscape has naturally made it a home for pollinators. Flowering perennials like butterfly weed and verbena attract butterflies. Hummingbirds feed on Texas Star hibiscus and Mexican bush sage just outside the kitchen window. And the homeowner especially loves the heavenly scented, large white flowers on the datura which is a favorite of night-flying moths.
Plano WaterWise Tour
If you can't make it to the Dallas tour, Plano's WaterWise Landscape tour is the following Saturday, the 21st, from 9 am to 3 pm. This self-guided tour features six stops, including the tour headquarters at the Environmental Education Center which is home to one of the Texas SmartScape® Demonstration Gardens. Experts will be on hand to answer questions. Visit the site to check out the interactive map.
SmartScape Your Landscape
The value of a smart water-wise garden goes well beyond a reduced water bill. These landscapes are sustainable, beautiful, and create a welcoming place for our native wildlife.
You're sure to find lots of ideas and inspiration on these tours to apply to your own landscape. Also, check out the Texas SmartScape website. Fall is the best time for planting perennials and shrubs, so make the most of these cooler days.
If you have any questions about water-wise gardening, leave me a comment below or drop me a line on Facebook.