The Plano Water-Wise Landscape Tour is coming up on Saturday, May 16th from 9am to 3pm. This free, self-guided tour features water-conserving, drought tolerant residential and community landscapes.
Stop by the Plano Municipal Center from 9am to 2pm for short talks on water-wise gardening, and Collin County Master Gardeners will also be on hand at each location to talk about water efficient landscaping, drought tolerant plants, and water conservation practices.
Two Special Stops on the Water-Wise Tour
I'm honored to announce my own home landscape plus one of my clients will be on the Plano Water Wise Landscape Tour this year!
My personal gardens have been a testing ground for 20 years, where I experiment with the use of water in the cultivation of natives, well-adapted plants, as well as many edibles. Low-maintenance, drought and heat tolerant plants along with rainwater harvesting techniques all come together for a truly water-wise landscape.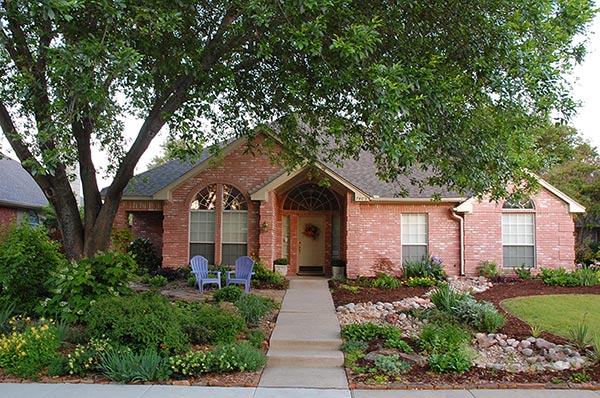 My favorite water-wise landscape features are my rain gardens and dry stream beds. During rainstorms water channels into swales in the dry stream bed, directing the rainwater to low spots. Rain gardens are depressions planted with plants adapted to both wet and dry conditions. Both dry stream beds and rain gardens function to allow absorption of rainwater into the soil.
These are not only beautiful additions to a garden, but they are also a practical way to hold on to water during a drought and to reduce runoff pollution from entering our precious waterways.
Here's a short video I made of my new dry stream bed installed in time for the upcoming garden tour:
Another stop on the tour is the landscape of one of my favorite clients! Over the last four years we've transformed her builder grade landscape, taking it from high maintenance to low maintenance. We started by replacing a Bradford Pear tree with a Desert Willow, and over-manicured shrubs with native perennials. Now she has a stunning landscape with plants blooming every season.
In addition to the drought-tolerant native plantings, other water-wise features used here include drip irrigation, reduced lawn area, and a thick covering of native hardwood mulch. She also has plants that attract wildlife along with many feeders for the ducks at the neighboring pond.
SmartScape Your Landscape
Pick up some native and well-adapted low-water-use plants that thrive in the Texas heat at one of the plant fairs this spring offered by the Texas SmartScape™ program and participating retailers. See website for dates and locations nearest you.
For water-wise inspiration for your own landscape, you'll find lots of ideas on the tour. Here's a nice overview of last year's tour, presented by Plano Prairie Garden blogger. Hope you can make it out to the Plano tour this year to check out these smart Texas landscapes!