Autumn is upon us bringing cooler weather, pumpkin spice, and a whole host of garden events. Plant sales, garden tours, and festivals are happening all around the metroplex.
Fall is an ideal time to plant perennials and shrubs (though wait until winter for tree planting). So, add an event or two to your calendar and find some new plants and/or inspiration to bring home for your own garden. Read to the end to see a new must-have book for all North Texas nature enthusiasts.
September 30
A plant sale benefiting the Molly Hollar Wildscape held at Randol Mill Park Greenhouse in Arlington. A large selection of organically grown plants adapted to our local climate will be available.
October 6-7
Freshen up your fall landscape with color, get advice from horticulturists, and check out a number of vendors at this annual event.
October 7
North Central Chapter of the Native Plant Society of Texas annual fall sale, featuring a large variety of Texas native plant species good for our soils and climate. This year's event is taking place in White Settlement (Tarrant County).
An annual fundraising plant sale hosted by the Dallas Chapter of the Native Plant Society of Texas featuring native perennials and shrubs. Check site for details.
October 21
A free self-guided tour hosted by the city of Plano featuring water-conserving residential and community landscapes. The tour headquarters is at the Environmental Education Center, which is also home to the Texas SmartScape® Demonstration Gardens where you can observe the monarch butterfly migration! Experts will be on hand to discuss landscaping and efficient watering.
A free family-friendly festival at the Grapevine Botanical Gardens celebrating the migration of the monarch butterfly with a variety of activities and events.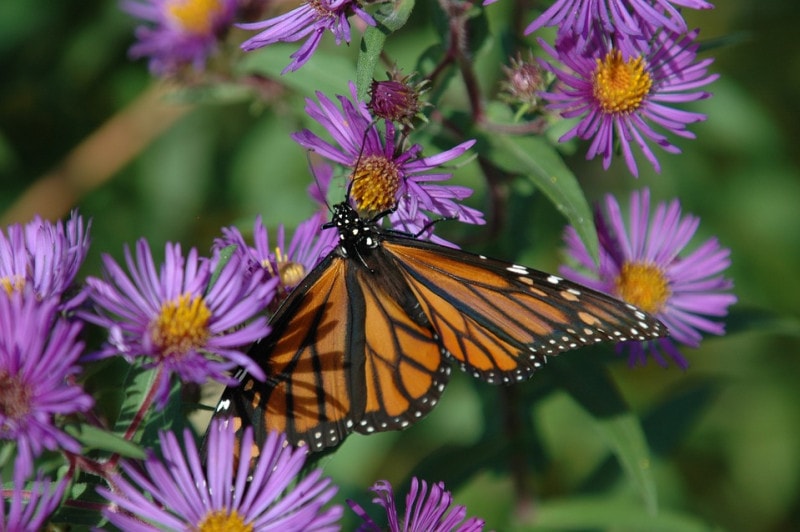 October 28
Featuring a collection of perennials, shrubs, grasses, and bulbs that perform well in North Texas gardens, at Myers Park in Plano.
More Resources
Want to get out into nature now that the temperatures are cooling? Then don't miss out this wonderful, new book by Amy Martin exploring all the nature that DFW has to offer!
Amy combines her own experience as an avid naturalist with knowledge from some of the region's most prominent experts. This book will educate you and inspire you to explore what is great about the natural world in the DFW area. There are sections on natural history and ecology, a field guide to North Texas species, and an exploration of our local ecosystems. It contains a wealth of information and inspiration for those who love nature.
Plus, check out her site for a handy calendar devoted to talks and walks that feature the destinations in her book. You can meet the author and experts to hear fascinating stories about nature and history. I have attended one of her talks at White Rock Lake and am looking forward to tuning in to her presentation to my local chapter of the Native Plant Society of Texas on October 3rd.
More Nature Events & Classes
Check out additional events available via North Texas Master Naturalist, the Heard Natural Science Museum & Wildlife Sanctuary in McKinney, and the Lewisville Lake Environmental Learning Area.
For classes to expand your gardening knowledge, see what's available through the Fort Worth Botanic Gardens and Botanical Research Institute of Texas, North Haven Gardens in Dallas, and Garden Green in Plano.
Questions?
If you have any questions, don't be afraid to ask. Many of these events will have experts on hand to answer questions and help you choose plants that will work best for your space.
I'm always happy to discuss native plants and landscaping, so leave me a comment below or drop by my Facebook page. Did we miss any events or activities for fall? What are you most looking forward to this autumn?