Dubberley Landscape provides expert horticultural and landscape design services with a focus on North Texas conditions, naturalistic design, stonework, and sustainable practices.
Transform your outdoor spaces into beautiful gardens and living environments. We'll create a custom landscape plan to meet your unique needs and will work to bring the plan to life with our experienced installation crew. Learn More »
We offer educational events catered to garden clubs, homeowner associations, business groups or any other organization that would like to learn more about native landscaping and gardening. Learn More »
. . .exceeds our desires and expectations. Using native plants, natural stone, and gentle contours, you have given us an environment that is beautiful (even when dormant) and that will require very little maintenance or additional water.
Our Specialties
Commercial Clients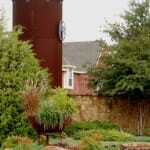 Dubberley Landscape is available for consultation and design on commercial projects. We specialize in creating sustainable landscape plans and programs for property owners/managers and landscaping companies and their crews to reduce water usage, chemical reliance, and operating costs.
Contact Carrie Dubberley by email or phone: 214-770-6252 to schedule a consultation.