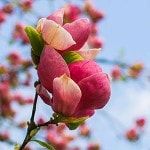 What gardener doesn't rejoice at the onset of spring?! In addition to the excitement of seeing new life emerging in our landscapes, we also have so many events available to us at this time of year.
Here's a collection of local plant sales, garden tours, and other events of interest happening around the DFW area this spring. Check the listed websites for more details.
March 18-19
The Garden Show, presented by the Collin County Master Gardeners
An indoor event at Myers Park & Event Center in McKinney featuring a wealth of information on Earth-Kind gardening, with local vendors offering plants and garden related products for sale.
April 7-9
A selection of perennials suited to the challenges of Texas gardening. Horticulture staff will be on hand to help you choose the right plants for your landscape.
April 8
A selection of annuals, perennials, vegetables, and herbs made available by the college's horticulture students at the Northwest Campus in Fort Worth.
April 15
Stop by the plant sale at Myers Park in McKinney for a wide selection of plants suitable for Texas garden. Master Gardeners will be available with free advice.
April 15-16
This plant sale located in Fair Park, Dallas features a selection of rare native and well-adapted pollinator-friendly plants.
April 21-23
An annual, family-friendly Earth Day festival held at Fair Park in Dallas, promoting environmental awareness. The event will feature numerous plant and garden themed exhibitors. Register for free admission.
April 22
This annual event at the Biodiversity Education Center in Coppell features environmental demonstrations, education booths, eco-friendly vendors, kid's crafts/entertainment, food, live music, plus a plant sale!
April 22-23
This McKinney event boasts a huge selection of plants suited for North Central Texas gardens, including natives, hard-to-find herbs, and well-adapted plants and will feature a selection of native milkweed plants.
April 29
A Texas native plant sale in Flower Mound, sponsored by the Trinity Forks Chapter of the Native Plant Society of Texas.
The sale will feature a selection of perennials suited to our Texas climate, hard-to-find shrubs, ground covers, herbs, and container plants. Located at Trinity United Methodist, in Denton.
Denton's own Arbor Day celebration, featuring tree vendors and plant sales, gardening supplies, local handmade products, family-friendly activities, and live music. Located at the Denton Civic Center.
May 6
A family event at the White Rock Bath House and Cultural Center in Dallas. Features demonstration/information booths, wildflower and bug walks, lectures and other activities; plus, a plant sale sponsored by the Dallas Chapter of the Native Plant Society of Texas.
A Texas native plant sale in Arlington, sponsored by the North Central Chapter of the Native Plant Society of Texas.
May 13
Tour five beautiful Master Gardeners' landscapes in the southern Denton area. Master Gardeners will be on-site at each location to answer your questions.
Other Classes and Events
More and more cities, like Plano, Coppell, Dallas, McKinney, and Bedford are providing classes and workshops for their residents to learn about sustainable landscaping practices. Check with your city's site for upcoming programs.
Dallas Arboretum's annual floral festival, Dallas Blooms, is ongoing through April 16th, featuring thousands of spring-blooming bulbs plus entertainment, food, and activities.
I love that the Arboretum has added a native plant garden area, with name tags so you can identify plants you like and then shop for them at one of the events!
What to Keep in Mind When Choosing Plants
You will find a wide variety of offerings at spring plant sales. As you look at all the beautiful plants that tempt you with their color and uniqueness, think about where they will fit in your garden.
Consider the final size of the plant to make sure you won't be overcrowding your garden, which can lead to unnecessary maintenance plus pest and disease problems. Also, consider light and water needs. The right plant in the right place will make for a successful, low-maintenance landscape.
While you're at it, choose some wildlife-attracting plants. Every garden can benefit from pollinators such as bees, butterflies, and hummingbirds.
And don't forget to do a little spring cleaning in your landscape to get it ready for any new plants you buy!
Questions?
If you have any questions about a plant, don't be afraid to ask. Many of these events will have Master Gardeners and other plant experts on hand to answer questions and help you choose plants that will work best for your space.
I'm always happy to discuss native plants and landscaping, so leave me a comment below or visit my Facebook page to ask your questions or let me know which spring events you are most excited about.